original bauhaus modell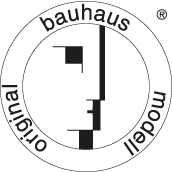 Since 1974, the "original bauhaus modelL" brand has been awarded to newly issued Bauhaus designs. Selected cooperation partners use the brand "original Bauhaus modell" for some of their products:
Alessi produces several metal objects for table and kitchen as well as silverware from Marianne Brandt.
bauhaus chess pieces, bauhaus building games and optical colour mixers are produced by Naef
at Tecta in Lauenförde, furniture made of steel and wood is created by Marcel Breuer, Walter Gropius and Peter Keler.
the wallpaper factory Gebr. Rasch produces wallpaper based on a design by Walter Gropius.
Some of the bauhaus designs are handcrafted in the same way as the original, such as Marianne Brandt's silver teapot, which to this day is still made in a silversmith's workshop.
Other objects are realized using today's manufacturing methods, such as the bauhaus Ascher 1926. designed at a time when Bauhaus students were dealing with forms for industrial production, the prototype was at the time handcrafted on a metal spinning lathe. Today, the ashtray is produced industrially using the deep drawing process.